Dashboard cameras offer great peace of mind in the unfortunate event of an accident. The problem is the market is flooded with them and knowing which one to choose to give you that level of protection you're looking for can be a nightmare. However, one company that seems to have hit the nail on the had with this product is KDLINKS. And here, we'll review what two of their most popular dashboard cameramodels have to offer – the X1 and the DX2.
KDLINKS X1 Dashboard Camera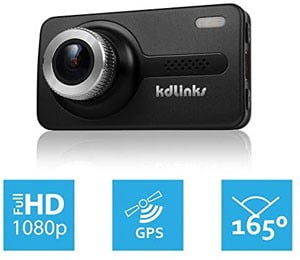 The KDLINKS X1 dashboard camera has been out since late 2014 and since then, sales have been going strong. And, for many a good reason too. Let's start with the looks. The X1 dash cam features a 2.7-inch display with a 160-degree Full HD (1920*1080 resolution) video capability. It also comes with a detachable GPS module, and an 8GB SD card.
In terms of looks, it's a very professional piece of equipment. It's thin, small, and it has a smooth black exterior that will complement perfectly any dash. There's an easy to adjust locking suction mount that comes with it to ensure the camera stays put while in use yet is easily removable when moving indoors.
The X1 dash cam is also very easy to operate. It records automatically in a loop and is ready to go right out of the box. It's also fitted with night-vision and a six-glass Nikon lens.
The main downside with this model is there's no timestamp function which can be bad if needing to use in a legal situation. However, you can still set the date and time manually.
KDLINKS DX2 Dashboard Camera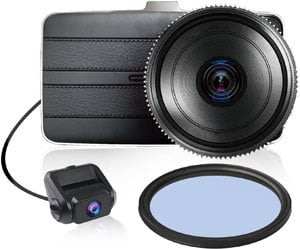 So now you've read what the little sister camera has to offer, it's time to see what big brother has.
The first upgrade to note is the DX2 is a dual-camera dash cam system. With one 1080p resolution camera with a 165-degree field of view facing the front, and one 720p resolution camera with a 125-degree field of view facing the rear the total field of view on this thing is staggering 290 degrees.
Another couple of upgrades you get with the DX2 dash cam is a bigger 3-inch screen for a better view and a 16GB memory card for a greater recording capacity. And, it supports loop recording. What this means is that when the storage is full, it won't just stop recording. Instead, the camera will overwrite the oldest videos with the new ones. The videos are automatically timestamped, and it starts recording automatically as soon as the ignition is turned on.
Both models have the ability to record hands-free, and both are ready to use straight from the box. They also both have superior night vision and six-glass Nikon lenses. Another similarity is that they both employ the Wide Dynamic Range (WDR) technology. This innovative feature enables the camera to choose the widest spectrum of luminosity all the time. So regardless of whether it's day, night, snowy, or raining, the camera will always give you good quality, clear footage.
Recommendation
In terms of price, there's not a huge difference between these two dashboard cameras. However, as you can see from the above, they havequite a few differences in terms of the features and functions on offer.
The X1 dash cam is a very good quality, affordable model that's easy to use and equipped with quite a few decent features and functions. Its camera quality is not bad and it's easy to operate. The DX2 dash cam, however, tops a lot of that. First of all, it has two cameras, offering a much wider field of view. Secondly, you get a bigger display screen. The DX2 also has the ability to timestampand comes with a bigger memory card.
While both offer a good quality dashboard camera that works well, it's clear to see the DX2 is the better choice, and overall, better value for money too.