Sekonic is one of the world's leading brands when it comes to creating light meters. Not only have they created a reputation for crafting some of the most reliable light meters on the market but  range of different products that can often have photographers and filmmakers scratching their heads wondering which they should choose. But when it comes to reliable light meters, you might also be tempted by the Shepherd Polaris SPD100 as well as the Sekonic L-308, L-358 and L-478D, but how to choose between them?
The Sekonic L-358 is the light meter that you will read the most about in photography and filmmaker forums, but each of these four light meters has qualities that should be explored to ensure that when you decide on which light meter to buy, you are making the right choice for what you will be using it for.
The Sekonic L-308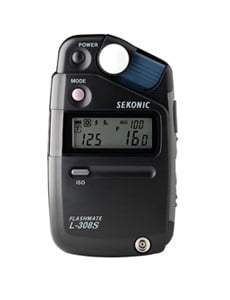 The Sekonic L-308 is the little brother to the Sekonic L-358 and is one of the more basic light meters that Sekonic offer. With exposures that are accurate down to a tenth-of-a-stop in both ambient and electronic flash light readings when using it in either reflected or incident modes, this Sekonic model is an excellent choice for any photographer who needs something that is small, light and reliable to take out and about with them without needing anything too flashy.
Running off an AA battery, this light meter comes with some very handy accessories that include a lumidisc with pouch, a soft case to store the meter, a strap as well as a synchro terminal cap. The Sekonic L-308 has been designed to look and feel like the Sekonic L-358 with the LCD display screen shows details in large type with easy-to-read icons so that even in low lighting conditions, the light meter is easily legible.
Despite its small size, the Sekonic L-308 is still an accurate light meter to use. It also boasts an ISO 100 ambient EV range of 0 to 19.9 as well as a flash f/stops range of f/1.4 to f/90.9. Covered by 1 year warranty, if the Sekonic L-308 develops any faults then you are covered. It is one of the cheaper Sekonic light meters on the market and is perfect for still photographers to use.
Polaris SPD100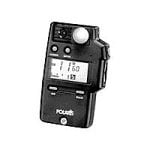 The Shepherd Polaris SPD100 is an alternative to the Sekonic L-308 as it is another basic model of light meter that is a great addition to any still photographer's arsenal and it also has some unique features that may make it more suitable for those who are starting out as professional photographers.
Like the Sekonic L-308, it operates off a single AA battery and is another small and light weight model that can be carried around in your pocket. The LCD display screen is oversized which makes it easy to read the data being provided and the functions even when you are holding this light meter at arm's length. The display shows data a large type using a gas-gauge analog scale so that you can easily take fractional measurements to get accurate readings.
The Shepherd Polaris SPD100 has four different exposure modes that it can operate in compared to the two that the Sekonic L-308 offers. The Shepherd Polaris SPD100 is also cheaper than the Sekonic L-308, which may be the deciding factor for many who are operating on a strict budget. The Shepherd Polaris SPD100 is accurate to a tenth-of-a-stop and has a unique multi-flash feature. This feature allows the light meter to calculate how many times the flash has to be fired in order to achieve the user's desired f/stop.
For those with a bigger budget who are looking for a light meter that offers memory storage as well as accurate exposures, the Sekonic L-358 is a model that has proven to be popular time and again with still photographers. The popularity and acclaim that this light meter has secured is not without basis, like the basic models it is accurate down to a tenth-of-a-stop and comes with the Sekonic RT-32 radio transmitter module that is easy to install and enables wireless connection.
Sekonic L-358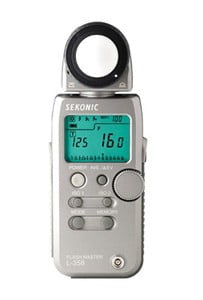 There are several features available on the Sekonic L-358 that the Sekonic L-308 and Shepherd Polaries SPD100 don't offer. To begin with, the Sekonic L-358 is dust-proof and splash-proof – it has a JIS standard water resistance class 4 rating, so if you are out in the elements you don't have to worry about your light meter being damaged by rain or spray. The Sekonic L-358 also offers a memory store, so you can store up to 9 readings that can be easily recalled to help with meter averaging and even in contrast evaluations when you are shooting in Aperture or Shutter priority modes.
The screen on the Sekonic L-358 is high resolution, an 800 x 600 SVGA LED backlit screen with a 4:3 aspect ratio, an auto rotate sensor as well as a remote control. The size and clarity of the display on this light meter makes it very easy for users to read data and select functions in low light conditions as well as when the light meter is being held at a distance.
The f/stop range on the Sekonic L-358 is better than the Sekonic L-308 ranging from f/1.0 to f/90.9 and it also offers a shutter speed range of 1/8000th-of-a-second to 30 minutes, though if using the light meter in flash mode the range is limited to 1/1000th-of-a-second to 30 minutes. The Sekonic L-358 is a light meter that is also suitable to be used when filming as well as taking still photography as it calculates cine readings from 2 to 360 frames-per-second. This Sekonic comes with a three yer warranty as well as customer support, so if you find that you are having problems using this light meter, you can call on the company to assist you.
Sekonic L-478D LiteMaster Pro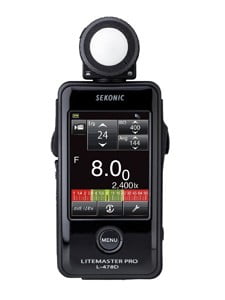 Though the Sekonic L-358 is an impressive light meter, there is one that is more expensive, but also ideal for professionals who are engaged in both still photography and filmmaking and that is the Sekonic L-478D LiteMaster Pro.
This light meter comes with a touchscreen and is the first model of light meter to offer users this option. It comes with more features than the Polaris SPD100, the Sekonic L-308 and the Sekonic L-358 combined. The Sekonic L-478D can be quickly and easily calibrated to your camera by using the Sekonic Data Transfer software.
Like many of the Sekonic products, the Sekonic L-478D is comfortable to hold and operate. The touchscreen makes it easy to use as settings can be made and changed by simply touching the screen or moving a finger over it. The LCD display measures 2.7 inches which makes it a size that can display information so it is legible from a distance as well as operate it using the touchscreen.
The Sekonic L-478D also comes with a swivel head with a retractable lumisphere and 13 different custom settings that make it perfect for obtaining precise exposure as well as precise and repeatable metering.
For filmmakers, this light meter offers a lot of great features that include and analyzing function that can lighten shadows or even reduce background detail when using the flash, an enhanced HD cine feature that allows for two motion-capture modes that can fit to whatever camera is being used. You can create unique shutter angles and unique frame rates to craft your own special effects. You can also switch between HD SLR and cine settings for more exact exposure settings.
The Sekonic L-478D also offers a unique quality of filtration compensation and an extended ISO range. The DTS exposure profiling feature on the Sekonic L-478D automatically matches the meter to your camera system so that it can operate and offer the best possible shots as it can recognize the limits of your camera.
 Conclusion
Knowing what you need a light meter for and how you are going to be using it is half the battle of selecting the most appropriate light meter for your needs. The Sekonic L-478D is clearly the best model on the market for photographers and filmmakers, however if you are just starting out then the Polaris SPD100 and the Sekonic L-308 will more than meet your needs. The Sekonic l-358 is perfect for those who are professional or are looking to take their hobby to the next level, whereas the Sekonic L-478D is designed for professional photographers and filmmakers that are operating multiple cameras on a single set.