Thinkware is a Korean-based company that's been around since 1997. Since then it's become one of the leaders in the car technology industry offering a wide range of innovative products for the everyday driver, including high-quality GPS navigation systems and dashboard cameras. Here, we're going to compare two of the company's top selling dashboard cameras, the FA200 and the F800 to see which one will better suit your requirements in helping to keep you safe.
THINKWARE FA200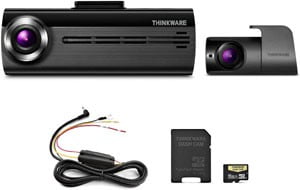 There are various qualities that you'd expect to find in a decent dashboard camera, pretty much of all of which can be seen in the Thinkware FA200. So, let's start with coverage. With this model, both front and rear coverage is provided. The rear-view camera has a wide viewing angle, capable of capturing incidents from all angles, while the front offers even further clarity. While the quality of the display is also very good offering a distortion-free picture that's Full HD 1080p.
The Thinkware FA200 has built-in Wi-Fi. What this means is that you can literally re-position and reconfigure the camera from the comfort of your living room. Simply download theThinkware mobile app to gain access to your camera remotely and play around as you so wish.
One added bonus you get with this dashcam is it has an Advanced Parking Mode feature that helps keep your car protected even when the ignition is switched off. Not only will it detect impacts to the vehicle, but it will also detect any motion in the close vicinity.
To help save and manage all your captured footage, there is a SD slot with a capacity of 128GB. It's also equipped with anti-file corruption technology in which to keep that information protected.
THINKWARE F800 PRO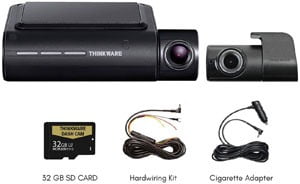 So, as you can see, the FA200 has quite a lot to offer. Let's see what's on offer with this model: the F800 Pro.
Pro by name and pro by nature, there is quite a dew upgrades to be seen when comparing the F800 Pro to that of the younger FA200 model. While both feature the same cool, black, stealth exterior, the F800 Pro does have a slightly sleeker-looking design.
You still get the same great front and rear recording capability that's seen in the FA200, and both feature the Advanced Parking Mode Feature. However, GPS isonly optional with the FA200, meaning you have to buy an additional GPS antenna if you want to use this function. But with the F800 Pro, it's fitted as standard, so both the red light andsafety camera alerts are all ready to go.
The F800 Pro dashcam is also the first in the Thinkware range that's equipped with Super Night Vison 2.0. This is a feature that's designed to automatically increase exposure under low light so that images are captured and recorded in greater detail than ever before.
Both models offer the same 128GB SD card support and both are WiFi compatible, and fully operational via a smartphone.
Recommendation
If you're looking for a good quality, feature-rich dashcam that's reliable and works well, then both the Thinkware FA200 and the FA800 Pro are excellent choices. Both offer fantastic recording and playback functionalities as well as more innovative features such as the Advanced Parking Mode. And both are fully controllable via a smartphone thanks to the integrated WiFi technology.
However, the FA800 Pro goes a little beyond that. As well as all the fantastic features the FA200 has to offer, with this model you also get integrated GPS, added better functionality. You also get better features such as Night Vison 2.0 installed.
So, while either model works extremely well in what it does, if you do have the extra to spare, then the F800 Pro is the better option. It has quite a lot more to offer in terms of features and functions, and it looks better too.